Markus Mittermair chairs The Hermes Standard
Markus Mittermair of Rehm Thermal Systems becomes the new chair of The Hermes Standard Initiative.
At the regular members meeting of The Hermes Standard Initiative held online in June 2022, the members elected Markus Mittermair to become the next chair of the initiative.
The chair is changed every two years and the baton is passed from Håkan Sandell of Mycronic who due to the 2020 worldwide health situation introduced the membership to an online form of meetings making them far more accessible and visible to all.
Markus is Head of Software Development at Rehm who manufacture reflow soldering systems with convection or condensation and also manufacture drying and coating systems with headquarters in Blaubeuren, Germany.
The Hermes Standard now sports 66 members with many more manufacturers implementing the data standard using the documentation and test software found on the Hermes website.
IPC-HERMES-9852 is focused on PCB (Printed Circuit Board) transfer from one manufacturing equipment to another down a production line. It is the replacement of IPC-SMEMA-9851 so can be seen as a Horizontal control technology and differs from IPC-2591, 'the connected factory exchange', aka IPC-CFX, as this is a pure data channel to the Vertical systems via AMQP.
Using IPC-HERMES-9852 means customers will benefit from new out-the-box functionality such as automatic changeover and product verification and traceability.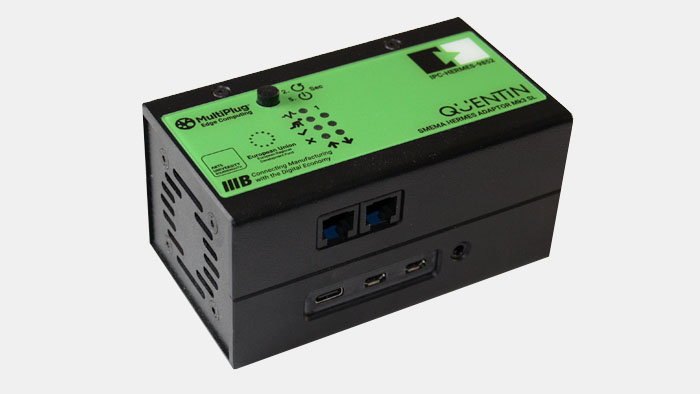 About 4IR.UK
4IR.UK is a Industry 4.0 solutions provider for the smart industrial manufacturing sector. It develops bespoke Extensions for the Low-Code No-Code MultiPlug Edge Computing Platform that allows for real time configuration of production line equipment. The flexibility of off-the-shelf software combined with inside industrial experience means that 4IR.UK is ideally placed to anticipate and respond to a factory's changing needs.