Featured: Bournemouth Daily Echo Monday Startup
INDUSTRY4.UK is celebrating our first year of business and to record this milestone our story has been published in the Bournemouth Echo by business editor Darren Slade.
The weekly column celebrates the achievements of Startups within the Bournemouth and Poole area and continues our local press coverage we received from BBC Radio in April.
As Industry 4.0 is an international subject, you may think that local press may not be important to us, but actually we have to think about future recruitment opportunities and to do this we have to connect to Bournemouth's community and current technical skill base.
The town features two Universities and due to the constant relocation from London, it is home to many Creative and Digital Agencies such as Redweb and Bright Blue Day. It's this talent pool that manufactures need to engage with because these Agencies have assisted with the digitisation of businesses found within other sectors over the last 20 years.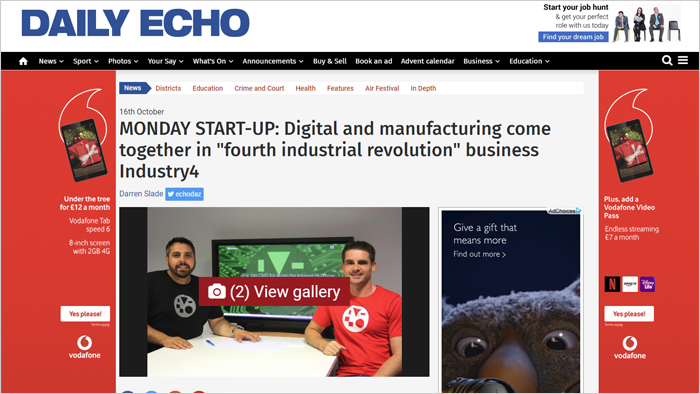 Solution and support provides similar to INDUSTRY4.UK from around the world need to do the same to create localised ecosystems of support options for manufacturing customers.
Our Multiplug Fog Computing Platform encourages the human-connection on a technical level by using the same technology stack that both Digital Agencies will be familiar with and Engineers who have created bespoke control applications for manufacturing use cases.
Creating the article with Darren gave the Co-Founders a well timed opportunity to review progress and reflect on the year. The article can be view from the Bournemouth Echo website.
About INDUSTRY4.UK
INDUSTRY4.UK is a Industry 4.0 solutions provider for the smart industrial manufacturing sector. It develops bespoke Extensions for the MultiPlug Fog Computing Platform that allows for realtime configuration and monitoring of production line equipment. The flexibility of off-the-shelf software combined with inside industrial experience means that INDUSTRY4.UK is ideally placed to anticipate and respond to a factory's changing needs.