Is Europlacer Group going to support IPC-Hermes-9852?
The future looks promising
One of the omissions of the Hermes Standard membership has always been BlakellEuroplacer Ltd which trades as Europlacer.
Quoting one of their customers, they manufacture the 'Fisher-Price' of Pick and Place machines and a Stencil Printer under the Speedprint brand. Well why wouldn't you make your equipment easy to use? Sometimes they brand their Printer as Europlacer which can cause confusion but that is due to an historic acquisition. To avoid confusion they have started to use the trading name of Europlacer Group.
Europlacer development and manufacture occurs in France where the Speedprint printers are manufactured locally to us in Upton, Dorset, England.
This is close to ASMPT's DEK Printer manufacturing facilities in Weymouth, Dorset and as you would expect there are some historic links. It's a small world.
Europlacer has been keen to use the IPC-CFX-2591 (Connected Factory Exchange) and was the first manufacturer to gain a listing on IPC's Qualified Products List (QPL).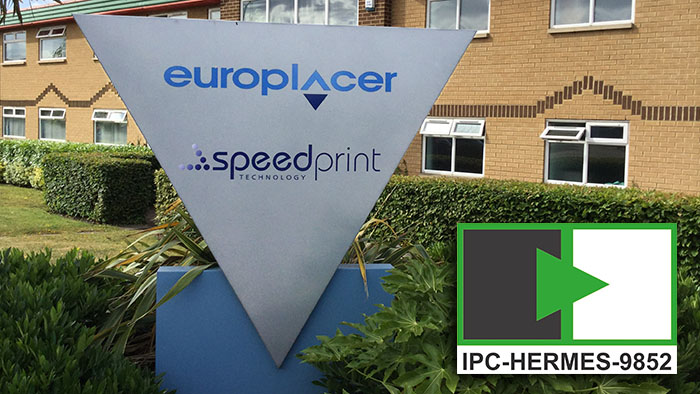 Taking into consideration that Europlacer may not have many automotive customers that require an audit trail, their reach to use the CFX in the 2010s in-line with the Industry 4.0 buzzword being coined makes sense. Like most of the industry at the time, they may not have had many requests for it prior to this time period. Time & Place alignment really helped them leapfrog over their competitors that were using bespoke data connectivity solutions.
IPC-Hermes-9852 was born in 2017 and the main sponsors were ASYS Group and ASM Assembly Systems as they were known then, both are Pick and Place manufacturers and both with manufacturing bases in Germany. So you can join the dots yourself as to why Europlacer hasn't yet joined or implemented the Hermes Standard.
That said, it wouldn't be an unwise thought to think that what the Hermes Standard can achieve the CFX could also. I wouldn't be surprised if this hasn't already been demonstrated.
Whatever the business politics at play, over the years while our SMEMA Hermes Adaptor was being developed we have had a large number of requests from British Europlacer customers who wanted to upgrade their production line to IPC-Hermes-9852.
In many ways, the rawness of the Hermes standard is more appropriate to the typical family-run smaller contract manufacturer that simply wants to track PCBs (printed circuit board) as they move down their production line.
It's been frustrating to inform them that until their Europlacer has been upgraded, then there is little point using the Hermes Adaptor.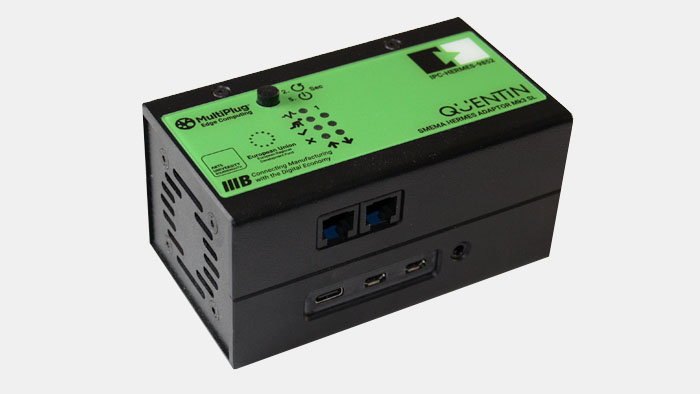 Understanding Europlacer's roadmap of supporting the Hermes Standard was a challenge. I knew that software development can take time especially when you have two types of equipment being developed in two countries that needs to support it from the day the press release is issued.
Being physically local to me my main contact was Andy Jones who was marketing manager at Speedprint. I occasionally asked the question informally on LinkedIn to which the answer I got was silence. Knowing he was a marketing manager he may have not been able to tell me.
After being contacted for the second time by Naim Kapadia, Technology Manager of Electronics at the UK's MTC (Manufacturing Technology Centre) who runs a Europlacer at their demonstration facilities, I used this prompt to finally ask Europlacer formally the question if they have IPC-Hermes-9852 on their roadmap. Bertrand Leplay, Europlacer Product Manager replied:
We are not supporting it yet but planning to do it with a future software release.
For more details, please contact Nicolas Pogu, our R&D Director
Bertrand Leplay, Europlacer Product Manager
In other news, the Silver Tsunami takes hold
Andy Jones has announced his retirement and he is now spending his days walking dogs in his home town of Weymouth.
I would like to thank him for being so welcoming in the early days of our business being formed. I previously worked for a Speedprint competitor yet knew little about the company and was nervous making contact with them as I didn't know of the potential business politics.
Being so physically local to us it made sense to collaborate to some degree knowing the industry is under resourced with technical talent.
Andy broke the ice quickly by inviting us to one of their open days and I was able to make contacts with their team.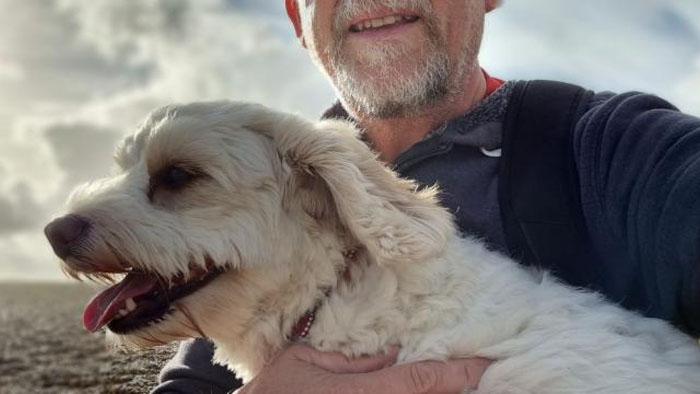 I wish Andy a relaxed retirement and I welcome him to provide us with any mentorship he can offer our growing business.
About 4IR.UK British Systems
4IR.UK British Systems is a Smart Factory solutions provider for the smart industrial manufacturing sector. We develop bespoke Software Extensions for the Low-Code No-Code MultiPlug Edge Computing Platform that allows for real time configuration and monitoring of production line equipment. The flexibility of off-the-shelf software combined with inside industrial experience means that 4IR.UK British Systems is ideally placed to anticipate and respond to a factory's changing needs.