Flex Ltd shows interest in the SMEMA Hermes Adaptor
Flex Ltd, previously known as Flextronics, has joined a number of Contract Manufacturers that have shown interest in deploying the SMEMA Hermes Adaptor within their electronics manufacturing facilities.
The SMEMA Hermes Adaptor is a compact and low cost solution to extend the life of IPC-SMEMA-9851 based SMT (Surface Mount Technology) electronic assembly equipment by upgrading them to use IPC-HERMES-9852.
Flex is an American but multinational diversified manufacturing company and the third largest global EMS (electronics manufacturing services) company with operations in over 30 countries and 160,000 employees.
While we normally conduct our business in a lean ecommerce manner we were contacted by Flex Process Manager Yaakov Lusky requesting a meeting with his team to discover whether the Adaptor fits with their requirements.
Production Maintenance Manager Gabriel Soos explained that at their facility they run 18 production lines.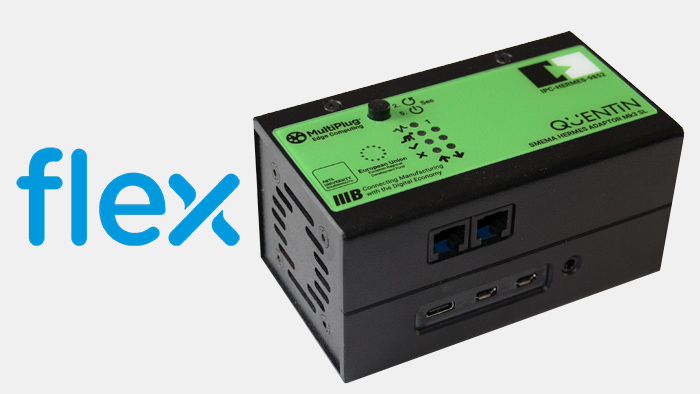 They want to upgrade to IPC-HERMES-9852 starting with their ASMPT Dek Printer and Siplace Pick and Place (Mounter) and wish to conduct a 2 month pilot using the SMEMA Hermes Adaptor and then roll the solution out onto the other 17 lines.
The message I gave to the Flex team was the same we give all our customers big and small:
IPC-HERMES-9852 Rollout steps
Firstly don't over complicate any rollout, take it in small steps and mini projects. Assign it to a single individual to give them ownership and a single point of contact for any technical support.
IPC-HERMES-9852 is for the benefit of the Hermes compliant equipment; to provide more functionality such as automatic changeover and not directly to the customer. The customer benefits are a side effect of an improved workflow. So always buddy up a SMEMA Hermes Adaptor with a single Hermes compatible machine as a first step.
Begin an evaluation starting with simple PCB (printed circuit board) transfers. The Adaptor is able to generate Dummy or Static Data so production can continue as it would under the control of SMEMA.
Once you are happy with PCB transfer you can move onto data injection using external hardware, systems or simply files.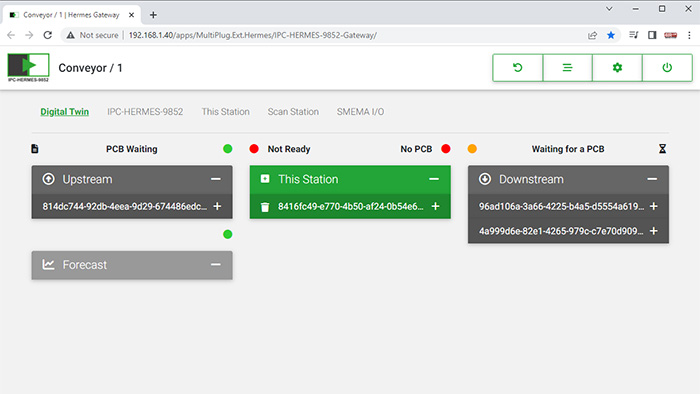 The Adaptor is a low cost upgrade in consideration with other parts of the production line so don't over complicate the decision of conducting a pilot trial as this only increases the cost of doing business.
Device Provisioning can occur in under 20 minutes. Software can be loaded onto the Adaptor using a USB memory stick and Backups of the Software Recipes (groups of settings) can be saved to a safe location once the customer is happy with the setup. This means restoring the Adaptor to a good known state is possible and quick.

Due to the low cost of the Adaptor it is becoming common for customers to buy a backup Adaptor for the worst case scenario of a hardware failure. We certainly would recommend this to mitigate any production line downtime.
Of course the very first step is purchasing a SMEMA Hermes Adaptor which you can do using your business credit card from our distributors. This again keeps the business transaction lean and avoids the delay of going via a purchasing department.
We look forward to supporting Flex Ltd in upgrading to IPC-HERMES-9852 and improving the functionality of the Adaptor.
About 4IR.UK British Systems
4IR.UK British Systems is a Smart Factory solutions provider for the smart industrial manufacturing sector. We develop bespoke Software Extensions for the Low-Code No-Code MultiPlug Edge Computing Platform that allows for real time configuration and monitoring of production line equipment. The flexibility of off-the-shelf software combined with inside industrial experience means that 4IR.UK British Systems is ideally placed to anticipate and respond to a factory's changing needs.