We're Exhibiting at the Smart Factory Expo 2018
We are pleased to announce that we will be exhibiting at the Smart Factory Expo 2018 in Liverpool, UK, 14-15 November
4IR.UK has been personally selected by KTN (Knowledge Transfer Network) to exhibit from stand P60 of the Innovation Alley. The KTN is Innovate UK's network partner, and also provides innovation networking for other funders in line with its mission to drive UK growth.
Innovate UK is a non-departmental public body operating at arm's length from the British Government reporting to the Department for Business, Energy and Industrial Strategy.
Smart Factory Expo is part of Digital Manufacturing Week, an annual celebration of UK manufacturing that brings together technology, finance and advanced manufacturing.
This is an opportunity to meet our co-founder and CTO, David Graham who will also be available by appointment after the show on both days.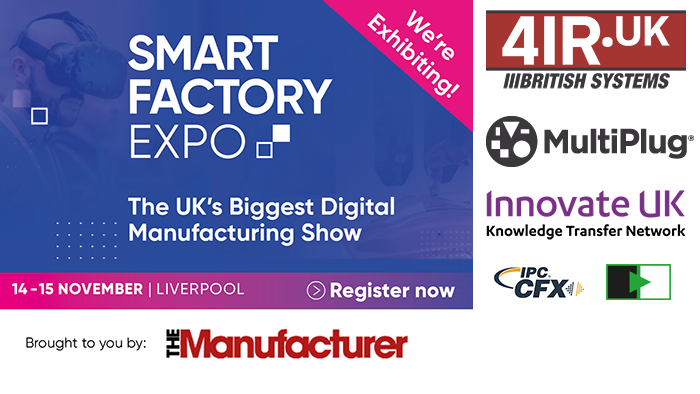 The Expo is held around our second anniversary so we would very much like you to come to see us to discuss our Startup journey so far, or any of the following topics that may interest you:
MultiPlug
As a MultiPlug Premium Partner (MPP), 4IR.UK will be able to answer questions about the MultiPlug Fog Computing Platform.
Roadmap
Platforms: Windows, Linux - Raspberry Pi
Development options
Current Extensions
4IR.UK - Our Company
Company background
Our view of Industry 4.0
Professional Services - Consulting, Software Development
Partnering opportunities
Investment and Funding
4IR.UK's MultiPlug Extensions
New Factory data standards - IPC CFX, IPC Hermes
Hardware - eg Brainboxes I/O products
Hermes to 

SMEMA MultiPlug interface adaptor
Expo Opening Times
Wed 14 November - 9:00 to 17:00. Thu 15 November - 9:00 to 16:30.
We are looking forward in seeing you. Contact: hello@industry4.uk