Overview
Escalating your system events, Controlling your applications and Automating your tasks.
We create platforms that facilitates the industry 4.0 movement towards efficiency in time management of personnel in manufacturing environments.
With the computerisation and automation of production lines brings an increased reliance on just in time principles, there is very little margin for error when planning for both human resource and consumable replenishment during production.
There are already products on the market that focus on increasing efficiency by reducing downtime of machinery but there are still reliances on skill production engineers to be in the right place at the right time to service manufacturing equipment.
We target to save a production engineers time by up to 30% by aggregating, escalating and visualising information comprehensively for making informed decisions and solving urgent problems at scheduled or short notice. Secondary, the ability to support the production engineer when conducting a range of tasks that are repetitive, unpleasant or tiring.
Working alongside existing manufacturing equipment builders, we partner with software vendors who focus on the development of Manufacturing Execution Systems and Employee Engagement platforms, as well as discrete I/O solutions providers.
Currently we focus on the Electronics Assembly segment market of manufacturing, however our products can be easily repurposed for other IoT markets.
System Context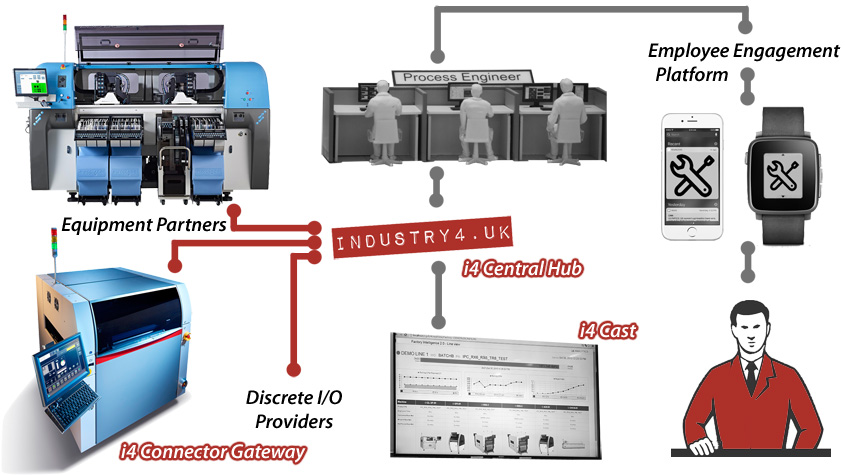 i4 Connector Gateway
File, Event log, Serial, TCP/IP, Wireless Monitor
Local & Remote database connector
Local configuration dashboard
Third party app extension point
Third party app control pusher
RESTful API
i4 Central Hub
Firewall friendly gateway
Full system configurator
Event data mapper
Live responsive designed dashboards
RESTful API
Streaming API
i4 Bruiser
Interact with system operators
Automate 'heavy lifting' tasks
Script third party application installations
Manage and audit IT assets
i4 Connector Gateway
The i4 Connector Gateway is a headless application that once a subscriptions have been setup using i4 Central, monitors changes to data objects and depending on the configuration, can pipe the change to a i4 Central Dashboard, or another i4 Connector, or a data object on the same i4 Connector. As it does this is can also transform the data to a required format.
An software extension point means it's possible to push data from a third party application to the i4 Connector. This is normally used where network handshaking is required or an existing interface exists. Documentation and example extensions can be found in the Developers section.
Headless
Remote Setup
Data Subscriber
Data Pusher
Firewall friendly
Dynamic Routing
RESTful API
Subscribe to updates of, and push updates to the following:
File
Windows Event Log
Serial Port
Local and Remote Databases
TCP/IP (Wired/Wireless)
Bluetooth Serial
Http (Push only)
Ways data can be transformed:
XSLT (Extensible Stylesheet Language Transformations)
Delimiting
Regular Expressions
Header/Footer Additions
Some of the typical routing scenarios:
i4 Connector to i4 Central Dashboard
i4 Connector[1] to i4 Central to i4 Connector[2]
i4 Connector[1] to i4 Connector[2]
i4 Connector[1] File to i4 Connector[1] Serial Port
Ways to extend the i4 Connector:
Push data to the inbuilt RESTful API
Create a bespoke plugin (.dll Library) to connect to custom interfaces or handshakes
Windows
Unix*
Linux* **
OS X*
* Uses the Mono implementation of Microsoft's .NET Framework
** and Raspberry Pi
Use Brainboxes to monitor discrete I/O using Windows
i4 Central Hub
i4 Central Hub hosts both the total configuration of the system and any Live Dashboards that optionally can be used to view data updates for remote monitoring.
Full system configurator
Event data mapper
Live responsive designed dashboards
RESTful API
Streaming API
Local or Cloud Hosted
Umbraco based
Remote Setup using configuration dashboard
Map data updates between i4 Connectors and i4 Central
Live Data Dashboards
Responsive designed for tablets and phones
Dashboard Library
Options to design or customise
Microsoft Azure
Local Windows Server IIS
i4 Bruiser
This product is under development so specification and features are under constant change.
In summary:
Interact with system operators
Automate 'heavy lifting' tasks
Script third party application installations
Manage and audit IT assets